TAPESTRY BLOGS Paying for Senior Living
Paying for Senior Living. What You Need To Know By Mackenzie Biehl of HappilyHarper.com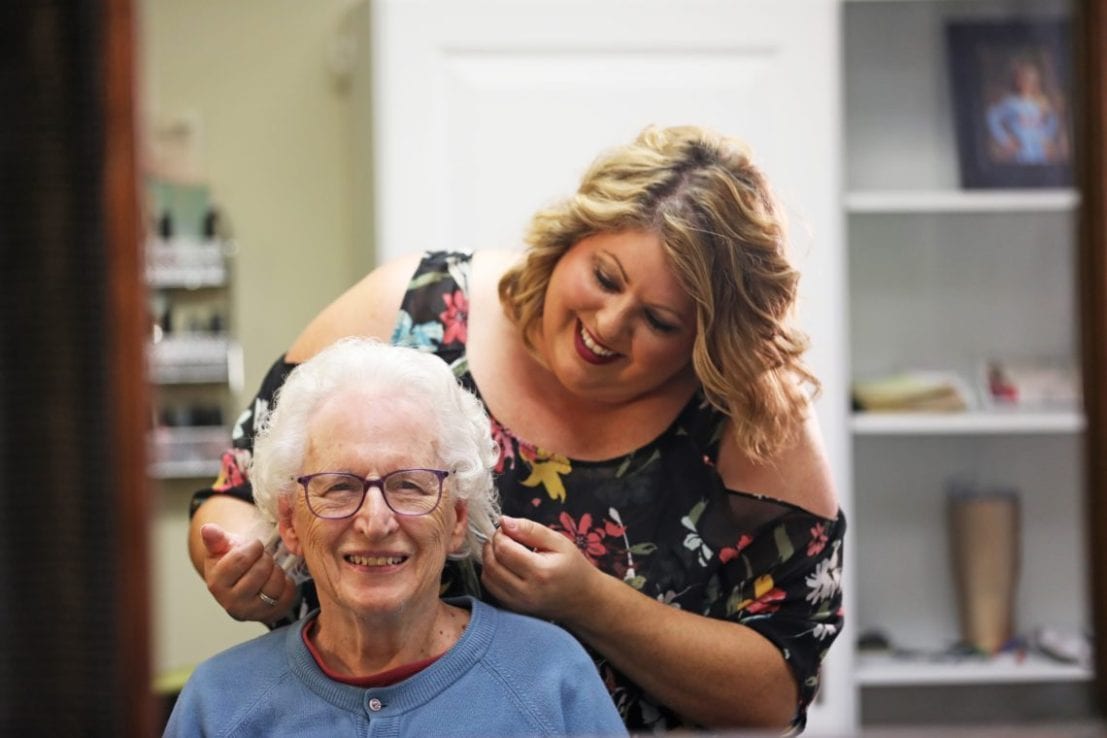 Do Your Research
It is important to know how to pay for Senior Living and imperative to understand the value of what you're paying for. If the price is your only consideration, you can shop around asking for deals like you were purchasing a car. If the quality of care and quality of life are central to your decision making, make sure you take the time to tour communities, ask questions, and do your research.
I've seen families mistakenly make their decisions exclusively based on price and three weeks later, are unhappy with the care, food, and cleanliness. If it seems too good to be true, it probably is. The price may be right but your loved one will lose out in other ways, ranging from quality care, programming, and cleanliness.
If It Seems Too Good To Be True, It Probably Is
You are looking for a place to nurture and take care of your loved one. This could be your mother. I talk to my mom on the phone at least once a day. I care about her as I care about my husband and daughter. If she ever developed dementia, I would want nothing but exceptional care. It could be your father, grandmother, aunt, sibling, or even your spouse. If you are offered a "deal", make sure you understand why. Is it because the community has too many vacancies?
I'll tell you what. In confidence, your loved one will continue to age. Most likely, his or her health will not get any better. You may be looking into assisted living because your loved one needs help safely managing medications or preparing meals. Maybe your loved one has had a recent fall? You must invest your trust in this assisted living. You have to really. Unless you are a 24/7 caregiver, some things are out of your control. Look around at the cleanliness of the community. Are the residents smiling? Do they appear well-groomed?
You will rely on the nurses and caregivers to help and support your loved one. You want the activities director, administrator, and sales director to guide you. Trust me, money can't buy decency and trust. Ask questions. Get a sense of the working environment. Your loved one may eventually need assistance toileting, transferring, dressing, bathing, eating, grooming, and ambulating. These caregivers are in place to assist with the activities of daily living.
Determine Your Loved Ones Monthly Income
It's important to determine if your loved one has enough money to live in assisted living for up to three years. According to AARP, the average length of stay in assisted living is 2.5 to 3 years. Can you believe that? Our averages are even less because people are staying at home longer, waiting until they absolutely need to be assisted living services to enter the community.
Move Your Loved One into Senior Living Before You Actually Have To
If you can; move your loved one into an assisted living before you absolutely have to. That way he or she can participate in the programs and activities, socialize and get their bearings before they require additional care services. Let this be their idea as much as it is yours. Get your loved one on board before he or she is unsafe to live at home. Take your loved one on tours of select assisted living communities and allow them to be part of the planning.
At least once a week, a family member comes into a tour because their loved one fell, broke something, is in the hospital, and will be discharged to rehab for 7-21 days. When their loved one is discharged from rehab, they are advised not to go home alone. They have the option to bring in home health care if the house is safe and handicapped-accessible and close enough to the hospital. Or, they can move their loved one into an assisted living community.
***See, in this situation, the loved one is not active in the discovery process.
The family member (YOU) are responsible for selecting the assisted living community, selecting the floor plan (room rates vary. Do you know if you're loved one would be comfortable paying more for a larger apartment or desirable view?
You will have to decide what they are bringing from home. Do they want that leather recliner or the love seat. Be proactive and you won't find yourself shopping for furniture for a very hurried move in.
Monthly Income
Start by looking at the monthly income of your loved-Social Security and Individual Retirement Accounts (IRA's), Annuities, and Pensions. What about Investments, Stocks, Bonds, Real Estate? It can be uncomfortable asking financial questions but they are important answers to know. Do they have additional funds when they require more care? Care costs can be a separate cost from room and board.
Long Term Care Insurance
Did your loved one purchase a Long Term Care Insurance policy? Long term insurance plans are sold by private insurance companies. But as people start living longer, the premiums are getting high. People are also waiting longer to purchase long term care policies and the premiums are going up even further.
Some long term care insurance policies cover assisted living communities. I have residents that purchased a long term care insurance policy 30 years ago and they are paid out $100 a day for assisted living for 2-3 years.
There are health requirements to meet for long term care (LTC) insurance to be approved. You're loved one can't just use their LTC when they would like.
If you're thinking about getting a long term care policy for yourself, read up on it. Chances are, you will need it. It's expensive. I don't know of any LTC insurance companies that sell a policy with unlimited days when they start it. They did back then.
Most people I have known use their LTC insurance for 1 to 3 years. Policies are less expensive if you buy them when you're young. Whether or not you purchase an LTC policy, you must plan for your longterm healthcare for the future.
Home Equity
Take a look at the value of your loved ones' homes (if they own one). Do you need to sell their homes to pay for a senior living community? What kind of work does the home need to become market-ready?
Medicare?
Keep in mind, Medicare DOES NOT pay for senior living. Even nursing home benefits are limited to 100 days. Medicare is a health insurance program that pays some of your medical costs for people over the age of 65.
Medicare Part A covers your hospital costs about your "deductible", short stays (less than 21 days in a nursing home), and hospice care.
Medicare Part B covers doctor visits and outpatient care.
Medicare Part D covers some medication costs.
Medicaid?
Sometimes, the Medicaid Waiver is a supplement to senior living. The Medicaid Waiver is a state program that allows individuals to receive care outside of skilled nursing facilities "nursing homes".
Instead of requiring your loved one to reside in a SNIF (nursing home), the Medicaid Waiver participants can receive care, paid for by Medicaid, in their homes and sometimes in senior living residences. Almost all Medicaid Waivers have a financial eligibility requirement and require the individual to lack the ability to perform in their activities of daily living.
Florida Medicaid Waiver
In Florida, we have a Statewide Medicaid Managed Care (SMMC) program. This has been in place since 2011. Because of this program, the Department of Elder Affairs and (ACHA) The Area Agency on Aging changed how some individuals receive their long-term care from the Florida Medicaid Program. We take individuals who are on Long-Term Care (LTC) Managed Care.
Qualifications
Through SMMC, must make less than $2,313 monthly. To clarify, this income can come from any source. For most of my residents, it comes from Just Social Security or Social Security and pension payments, IRA withdrawals, or stocks.
You must have less than $2,000 in assets. Assets can include investments, real estate (if you don't live in it), stocks and bonds, and your checking and savings account. Don't worry, some assets don't count. Your automobile, your primary home (if it's less than a half a million dollars), personal belongings, and burial trusts. Don't worry, there are ways to qualify if you are over these income limits.
You must be 65 or older and be determined by the Comprehensive Assessment and Review for Long-Term Care Services (CARES) unit at the Department of Elder Affairs to be at a nursing home care level.
Veterans Affairs-Aid and Attendance
Veterans have risked their lives for our country but many seniors are unfamiliar with one aspect of the country's attempt to give back. Aid and Attendance established in 1952 as a tax-free monthly financial stipend toward assisted living care. Is your loved one eligible for the Aid and Attendance pension through Veterans Affairs? I always get excited when I meet a family that has not heard of this benefit. The compensation is not limited to veterans with service-related injuries. It is not limited to veterans as it can apply to a surviving spouse of a wartime veteran. Applicants need only have served at least one day of the 90-day minimum wartime service requirement.
Medicaid?
Sometimes, the Medicaid Waiver is a supplement to senior living. The Medicaid Waiver is a state program that allows individuals to receive care outside of skilled nursing facilities "nursing homes".
Instead of requiring your loved one to reside in a SNIF (nursing home), the Medicaid Waiver participants can receive care, paid for by Medicaid, in their homes and sometimes in senior living residences. Almost all Medicaid Waivers have a financial eligibility requirement and require the individual to lack the ability to perform in their activities of daily living.
4 Things to Determine Eligibility
The Department of Veteran Affairs looks at 4 things to determine eligibility.
Did your loved one or their surviving spouse serve at least one day of the 90 days during wartime?
Does your loved one of their surviving spouses need assistance with an activity of daily living such as bathing, dressing, transferring, toileting, medication management OR are they legally blind OR has a diagnosis of Dementia?
Income vs. Medical Expenses: The VA compares the relationship between an individual's income such as Social Security, pension(s), and all other fixed income) and medical expenses (assisted living and health insurance premiums). If the claimant spends all of their income on countable medical expenses, they should be entitled to the maximum monthly income from the Department of Veterans Affairs. In Assisted Living, most of our residents are spending more than they are bringing in monthly.
Lastly, the tricky one. Savings and Net worth. The VA does not designate a specific dollar figure to determine if someone is eligible for the benefit. The number is different for every person/family who applies. The VA looks at every claim individually and makes a net worth determination based on the facts and circumstances of the case. If there are significant assets, benefits may still be awarded depending on care expenses. This is the time to seek professional help. There are many services that offer FREE assistance to obtain Aid and Attendance. If you don't know where to get started, comment below and I would be happy to get you moving in the right direction.
Current Expenses Vs. Assisted Living Expenses
It is very important to consider your loved one's current expenses. I provide my tours a simple expense worksheet. Click here to download your own copy. You will want to consider their rent/mortgage, property taxes, home repairs, meals, recreation, and social activities. Does your loved one need home health care? Costs for home health care can range from $15-30 an hour. Next, you will compare this total cost to the cost of a senior living community.
Can Family Help?
If your loved one's finances really don't cover all of their potential fees, talk to your siblings and other family members to see if they are willing to pitch in and help provide your loved one a better quality of life.
What Are Your Loved One's Needs?
Next, it is important to talk to your loved one and family about their needs and wants in a community. Do they need help with managing medications? What about cooking meals? Doing laundry? Can they do any of these independently? Does your loved one need assistance getting dressed? Help in the shower? Does your loved one have a cognitive impairment? Is location important? What about the size of the apartment? These are questions to ask to determine if your loved one needs an independent, assisted living, or memory care community.
Ask Questions
Ask the communities you tour the apartment rental cost, additional care fees, cost of the reservation fee. It is important to find out if there are any a la carte or hidden fees.
A 2017 Genworth report states that the median annual cost for an assisted living community is $45,000. This may be illuminating. The Alzheimer's Association revealed that the estimated care cost for someone with dementia over their lifetime is $341,840.
After looking at monthly income, assets, pensions, and benefits, or after selling a home, many of my families are amazed to find that assisted living may not be out of reach. You just need to do a little bit of preparing and planning so the assisted living can be stress-free.