TAPESTRY BLOGS Secrets for a Long Life
Living, the Upside of Aging
By Mackenzie Biehl of HappilyHarper.com
Disclosure: All 4 of my residents gave me their written consent to be part of my blog. 🙂
The secret to a long life may taste better and be simpler than you think. Although these four may have genetic advantages, they all had a few things in common. I interviewed four residents of Tapestry Senior Living; asking them to spill their secrets on the keys to a long life.
In the United States, according to the CDC, a human's typical average lifespan is around 79 years old. But several of my residents have lived (and are living) well beyond that. Fortunately, those of us who are striving for a long life, several of my seniors have shared their vitality secrets.
"Wake up early, work hard, and help people."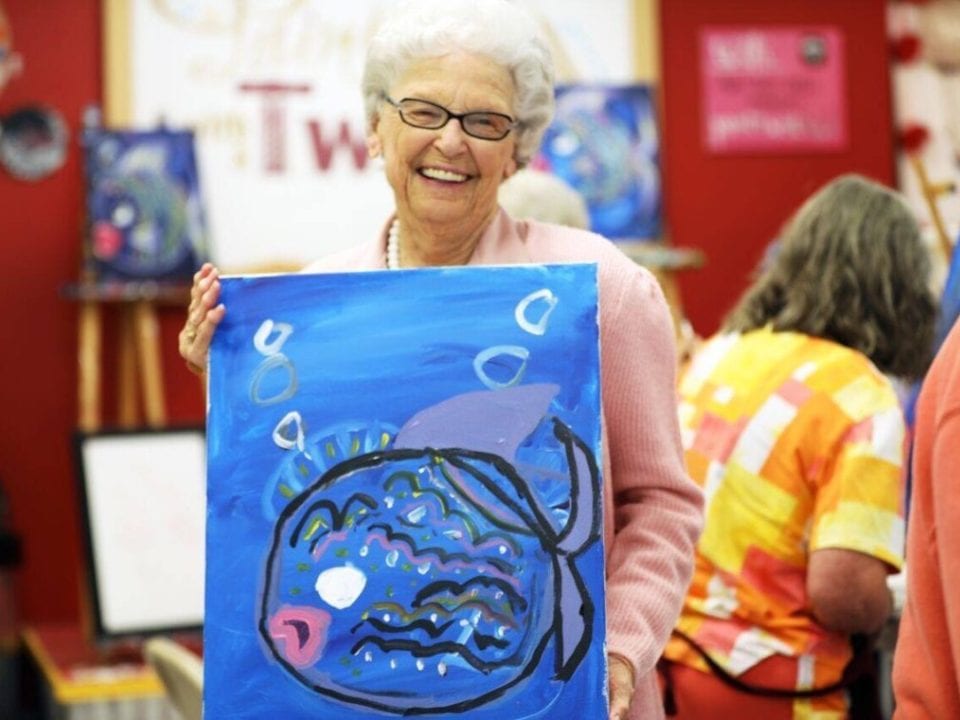 Ms. Ealmer, 91 years old
Ms. Ealmer believes hard work and caring for other people is the reason for her long life. Her momma said she was a carbon copy of daddy. They went to bed early, woke up early, worked hard and helped people. It makes a person wise. There's the old adage "Early to bed early to rise helps one be healthy and wise."
Ms. Ealmer always stayed busy from one thing to another. From a little girl, she worked in the field picking, cabbage, cutting tomatoes. She worked for the state for 34 years and retired at age 60. But then she got rambunctious and went to work for Publix for another 16 years. Then the Microtel before she moved into my assisted living. She's never been able to sit still. She has to see what is going on.
Ms. Ealmar owes her longevity to a good family. Her late husband was the best man she ever knew, even his small body was crippled and weak in a wheelchair. That's why she doesn't have another one. She believes that God knew they loved each other and she was going to look after him that's why she has a place to look after her now. Her son made her want to work hard in life. Even at 91, she continues to enjoy Southern food and sweet tea.
"Get up every day and just keep going."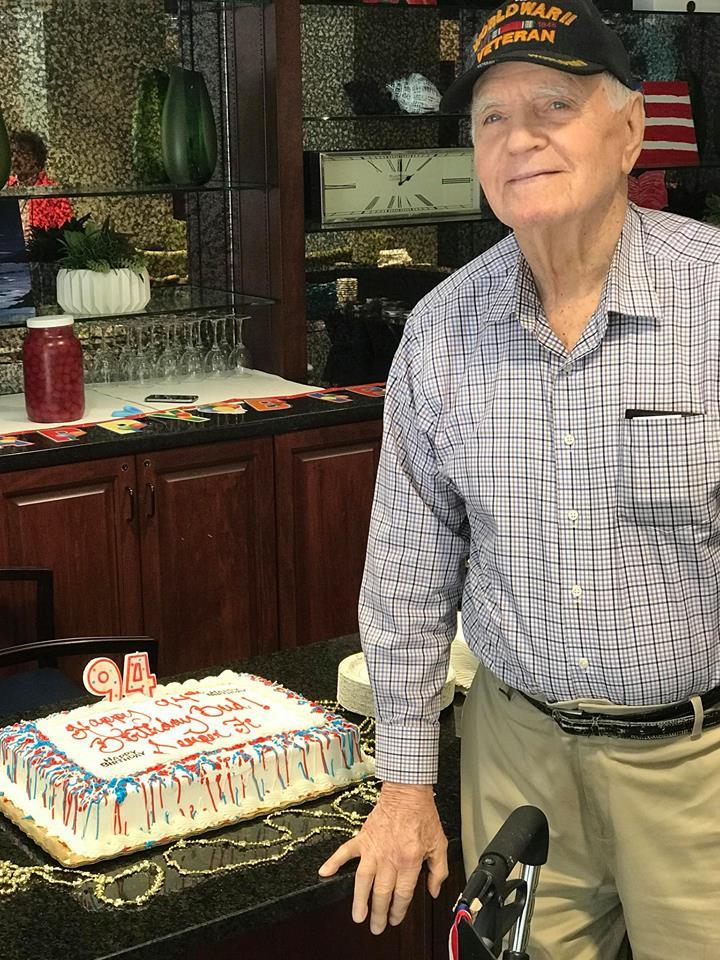 Mr. Bud, 94-years-old
Bud was born June 27, 1924 in Lenore West Virginia, and joined the Marine Corps in 1942 at the age of 18. One of Bud's most harrowing experiences involved his going to sleep in the grass on Iejima Island located northwest of Okinawa. Bud says that he was sleeping with a large rock at his feet. Bud explains that "God awakened me, because the large rock began to move. Just then a Japanese soldier came from hiding under the rock and lunged to stab me, but I kicked him in the chest and then shot him with my 45.
During the melee before killing him, the Jap soldier stabbed me in the leg." Bud got up, and was trying to make it to the hospital tent, but before he made it, an air raid occurred and knocked Bud unconscious. Bud was found by an Army medic and was taken to the hospital tent.
Bud was honorably discharged at the rank of Corporal on October 17, 1945. He returned to West Virginia where he worked in the coal mines for five years.
Mr. Bud is 94, soon to be 95. He is one of our surviving WWII Marines. He can still tell you stories of the war and swoon about his late wife of 57 years, Alice. He has always enjoyed his life and is still going and doing good. For one thing, being happy means a long life. Bud told me not to let the little things fool you. Just keep going. Get up every day.
"A marriage full of love."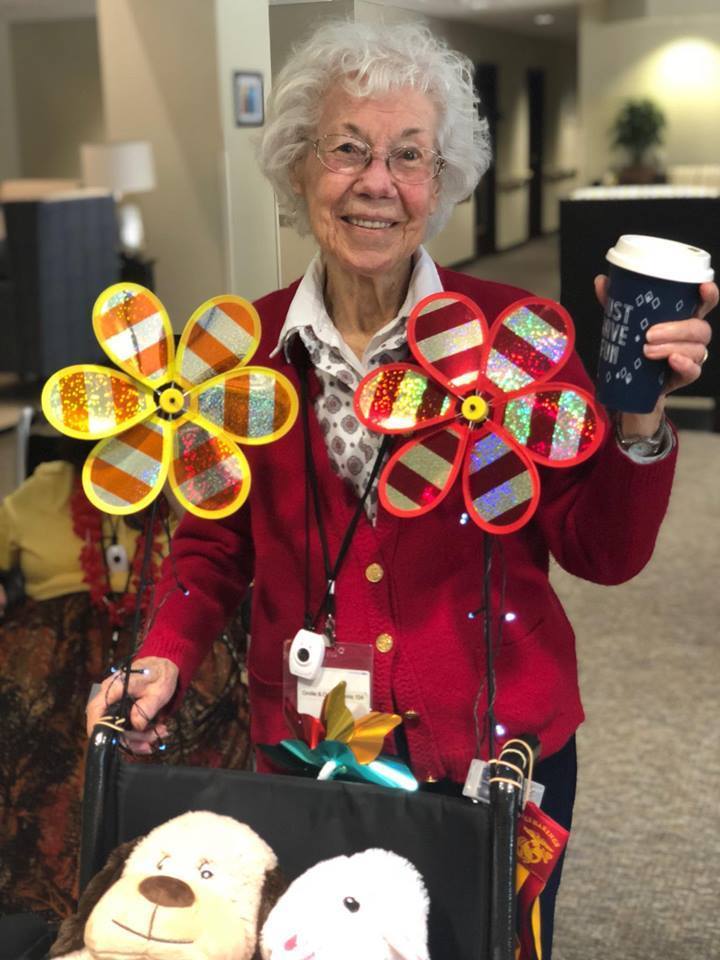 Mrs. Opal, 93-years-old
Mrs. Opal, 93, along with her husband Orville, 95-years-old, credit their longevity to being in love for so many years. Neither regret meeting and being married. Opal said that she and Orville would walk in their neighborhood every night after dinner, up and down the hills talking to neighbors.
When the kids were young, she didn't know much about healthy eating but in her 30's, Opal started making a salad and veggies with meals. She has always stayed away from germy people. Opal and Orville never drank alcohol (sorry guys) and Opal never smoked cigarettes (Orville did from 18-50 years old). She believes a ticket to her longevity is a support system that cares for you. She and Orville have also always slept at least 7-8 hours a night.
"Hard work and a reason to live."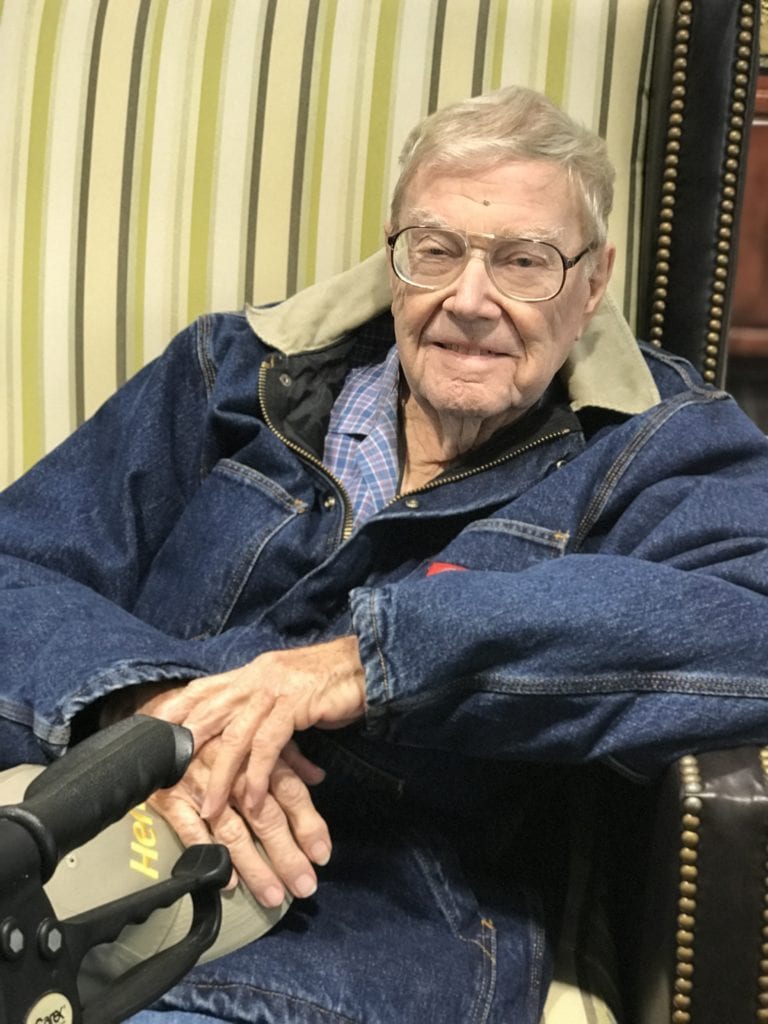 John, 92 years old
John was drafted for WWII in the Army at the age of 19. John believes his secret to longevity is because he has always handled stress well. Like Ms. Ealmer, he has always worked.
John's wife Jean gave him a reason to take care of himself. John recently heard a sermon titled "purposeful life" to live every life with a purpose. Jean, his wife of 68 years just passed at 90. John believes it's so important to have a purpose in life.
Jean was a great cook. His son always said you think she's a good cook because she cooks everything she likes. She kept a good control on too much salt, cut tiny pieces of pie, limited steak. He thinks that is why they both lived so long. At 92, John has survived WWII, labor-intensive jobs, and 22 moves in 4 states. He survived 68 years of blissful marriage. He always remembers the good things and forgets the bad. And he always believed in hard work.
In closing…
All four of my residents still enjoy bacon and ice cream. If I've learned anything from these guys it's that having an active mind is the key to how well the brain ages. All of them have maintained a passionate interest in something; which has given them their reason to live. Their spirituality and personal faith have a universal remedy for their life. That is something I am will work on and improving daily. Take it from them-Work hard and always find your purpose and reason to live.
XOXO
Mackenzie